About Us
ABOUT SORO'S GRILL - THE SORO STORY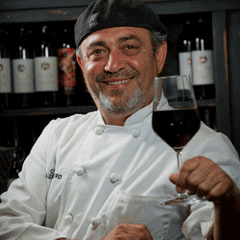 Papa Soro is a Catholic Assyrian from the Middle East, born and raised in the city of Baghdad, Iraq. It was there that his love for Mediterranean spices, flavors and cooking style was established. As a child, his family was known for lavish soirées and never-ending amounts of delectable food! Papa was introduced to fine dining at age thirteen when he began working in a private country club in Baghdad with his father. From his experiences as a young teenager in the fine dining atmosphere, he felt an urge to initiate a career that exuded his hospitable character and his passion for life.
In order to come to the United States as immigrants, Papa Soro and his family fled Iraq to Lebanon and later, Greece. Through sponsors, he and his family were finally placed in Detroit, Michigan. Speaking Aramaic as his first language and Arabic as his second, he had no prior knowledge of the English language. Regardless, within two years he became a championed ballroom dancer and met the love of his life. The same day Papa earned the accolade, a woman who would change his life for the better walked into the club. Papa asked his waiter friend, "Who's that beautiful blonde over there? She looks like Marilyn Monroe." He quickly told him to take her a bottle of champagne and tell her that it was from him. The attraction was mutual and instant. He and his wife, Sheri, have been together ever since. As you walk into Soro's Grill, you will see hints of Marilyn Monroe around the restaurant, representing Papa's endearing love for his beloved Sheri. They moved back and forth between California and Detroit throughout the years, starting businesses in both states, including the Mediterranean style restaurant in Detroit, Wally's Kabob, as well as Waleed's Foods in San Diego.
Before opening his own restaurants, he earned the position of Head Maitre d' at the Hotel St. Regis across the street from General Motors in downtown Detroit. He was also flambé captain at Café Capri in Sacramento. His tableside cooking style of flambé' was perfected here where regular customers consistently asked for his service. The show stopping presentation earned him honors and polished his ability to entertain the most discerning of guests. As you dine today at Soro's Grill, you will have the opportunity to enjoy the same flambé presentation right at your table.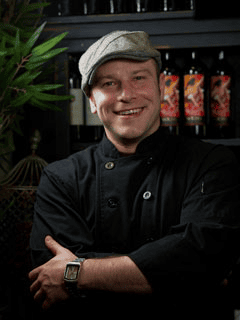 The appeal of hommus used in cooking sauces and dressings really took off when Papa's son, young Dylan Soro, began working in his father's restaurant, Wally's Kabob. The nine year old, barely able to see over the stove, began following Papa's recipes and sautéing mouthwatering cuisine. "From then on...", explains Dylan, "I always wanted to work with my Ol' man!" It was here that Papa created flavored hommus in order to appeal to the tastes of his guests that were looking for something other than the everyday tarter sauce to dip their Fish & Chips in. In the back of the kitchen, Papa began selling his flavored hommus, pita chips and Mediterranean salads to boutique delis, markets and other restaurants, building his clientele. In the mean time, Dylan graduated from high school, and traveled to San Diego to visit his aunt and cousins. Two days later, he called his father and told him he wasn't coming home. "I love it here!", he exclaimed. A month later, he called home insisting that he needed his car. Papa then made the drive from Detroit to San Diego. The feeling rubbed off on Papa, and he soon called Sheri to tell her that he wouldn't be coming back either! They sold their house as well as their business, and left their friends in Detroit in the matter of a month.
At the Road Shows, people would not only comment on how delicious Papa's creations were, but they would also ask for hommus-based recipes, adding that they, Dylan and Papa, should open up their own restaurant. Papa then began asking around if anyone knew of a small town that was warm and welcoming – just like him. It was suggested that he take a look around Temecula. On a random Thursday, he felt the need to drive through Old Town. Feeling a vibe, he came across a sign that read, "Restaurant for Lease". He immediately searched for the restaurant in order to meet with the owner of the building as soon as possible. He did just that the following day. By Saturday, he and Dylan signed the lease and on July 4, 2009, Soro's Mediterranean Grill was born.
They look forward to seeing you soon!